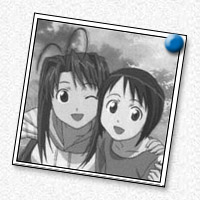 ~ November 08th 2005 (13:05) ~
Dear diary,

The site has changed URLs! Naru's Diary is now hosted on Mahoro-Network. The site can now rest here.
Naru Narusegawa
~ October 21st 2003 (23:14) ~
Dear diary,

Still here, somehow... Today is a bad day. I just received some mail from my current host saying that I was doing too much traffic, so for now, I disabled the goodies section of the site in order to restore peace... Maybe it'll come back later, with less stuff, but it should come back. Sorry for the delay between news too, lots of things happened ... You can still send me mail if you have questions, of course!
Naru Narusegawa
~ June 17th 2002 (19:20) ~
Dear diary,

Late, late... That can't be! Axel-kun is late again in helping me... Well, it's true that he is also very busy and has very little time to give me, but still... ! Well, that's alright, I'll manage it alone, even if it'll take time! Although, I managed to take the 3rd chapter of Keitaro's Journey To Hell from him, isn't that good news?
Naru Narusegawa
~ May 14th 2002 (18:42) ~
Dear diary,

I'm so sorry! I'm so so so sorry! The other day the server my diary is on crashed down and I lost part of it... Hopefully Axel-kun had a backup ready, but when I looked at it, it was two months old! Stupid, stupid Axel... Anyways, I lost some minor stuff like some wallpapers, probably some fanfics and links from the link board too... I'm not sure of the damage yet. Moo, what a time to study!
Naru Narusegawa
~ March 04th 2002 (09:27) ~
Dear diary,

Fanfics! Hello hello! Aaah, I'm so relieved that I finally finished this update! Sorry for having taken so much time, but someone had to add fanfics to the archive.

Since I received authorizations from various authors, I could add their fanfics there. But I'm still waiting for replies from the author's of the older fics which were stored there before free.fr cowardly destroyed my diary. I need more info on them, and can't proceed without their agreement.

Soon, I'll be able to add the next OVA of my adventures, Love Hina Again! 2 as well as some new pictures I just found recently. Lots of work!

I'm going to leave you now, dear diary. I hear Keitaro calling me for some studying we have to do together... Bye bye!
Naru Narusegawa